The TCS Music Academy opened in 2012 to offer private music lessons to TCS students during daytime hours. The program currently accommodates up to 100 students, with 5 music teachers offering their expertise in piano, voice, guitar, bass guitar and drums during weekly lessons.
A student wait list is kept and updated for families who would like to participate in this program. Spaces fill up quickly, as in-­school lessons are a much desired convenience for busy families.  Due to high demand, we can offer only one lesson spot per student.
Each student receives weekly private instruction for a 30­ minute lesson during their specified time. Students are expected to keep a regimen of daily home practice, and are encouraged to participate in performance opportunities throughout the year including recitals, in­-school events, talent shows, etc.
Piano lessons include a wide range of styles and methods from beginner to RCM exam prep, theory, and also improvisation skills and popular styles of music.
Guitar lessons focus on beginner skills including tab­ reading, standard notation and chord charts for praise and worship and popular music.  Bass lessons are also available.
Voice lessons are tailored for students who enjoy performing solo, including popular, musical theatre, praise and worship, learning harmonies and more.
Drum lessons will be offered in the large studio on select days.  
All lessons are 25.00 per half hour and run weekly on the school calendar.  
A REGISTRATION FEE of 10.00 per family is due to secure a child's spot on the schedule.
For 2016, we have two brand new teaching studios in the new "Arts Wing" of the school on the main level.  Guitar students can store their instruments in the "Guitar Parking" zone on lesson days.
For more information, or to sign up for lessons, 
please email tcsmusicacademy@gmail.com or telephone403­-863­-5754.
CONTACT 
IF YOU ARE INTERESTED IN ENROLLING IN LESSONS AT TCS, PLEASE SEND AN email WITH THE FOLLOWING INFO:
Student's name / grade / home room teacher
Parent email and phone numbers
Instrument desired (piano, guitar, voice, drums) 
Previous music lessons and levels achieved
Due to the high demand for lesson times, only one time slot will be allowed per student.
All new inquiries will be placed on the wait list.
Charlotte Loeppky - Director
403-863-5754
Music Academy Teachers
CHARLOTTE LOEPPKY 
Music Academy Director
Instructor in PIANO & GUITAR
Charlotte grew up in a household of music, where the whole family sang and played the piano.  She studied RCM piano for ten years, then ventured into voice and guitar studies, performing in choirs, a director and accompanist for church worship, touring groups and bands.  She has worked with various theatre companies as accompanist, performer, music director and arranger for numerous productions.  She also composes, records and performs with local artists.  She has been teaching music to students of all ages for over 25 years and enjoys tailoring lessons to fit the uniqueness of every individual.
MARGO MORRIS - PIANO
Margo was born in Orillia, Ontario and at the age of 5, began taking piano lessons and developing a love for music. She sang in the church choir and in various worship ensembles throughout the years. Margo studied up to Grade 10 Royal Conservatory with the same wonderful teacher and participated in many Kiwanis Music Festivals. She enjoyed playing the bassoon in high school as well as in the Ontario All-Star Band. Her resume includes teaching music in special needs schools for 14 years as well as teaching in the capacity of K-3 music teacher for T.C.S. these past eight years. She has received training in Music for Young Children and in Orff music education. Teaching piano at home is something that Margo did when her children were young and even continued up until last year. At this season of her life she is thoroughly enjoying teaching beginning students at the Trinity Music Academy.
KRISTEN DUDAR - PIANO
Kristen Dudar has been playing the piano since the age of 9. She has participated as a church pianist, an accompanist for many choirs, and has been involved in several worship bands.  After high school, she studied at the Kings University College further receiving her Bachelor of Arts degree in Music. Following graduation, she became a certified Yamaha instructor and has been teaching both group and private lessons at the Sonata School of Music in Calgary. Kristen has been teaching children as young as two years old, all the way up to older beginners.
TIM BARTSCH - PIANO

Tim loves music. He started taking piano lessons at age 7 and started teaching at age 15. Along the way he picked up the trumpet and guitar and sang in choirs. He completed his Performer's ARCT in Piano in 1999. Tim has been a youth pastor, worship pastor and loves to work with children and youth. Presently, Tim is a Yamaha Music Instructor and Examiner. He lives  in Canyon Meadows with his wife and 3 children. 
"As a music teacher my first goal is to pass on a deep love of music to every one of my students. It is far more enjoyable to work hard at something you love. And if you learn to make music for yourself, you have a gift that will stay with you for the rest of your life. And that's amazing."
CHELSEY BRAAKSMA - VOICE
Chelsey Braaksma graduated from Ambrose University with a Bachelor of Music degree in voice. She began her piano studies at the age of five and vocal studies at the age of eight.  Chelsey has extensive performance experience and has participated in masterclasses with highly trained professionals.
Chelsey teaches classical, pop, country, and praise and worship. Chelsey wishes to create a learning environment where students feel comfortable exploring their own musicality and expressing themselves creatively.
JOHN HUBER - DRUMS & GUITAR
John Huber, age 50, is originally from Regina, Saskatchewan. He started playing guitar at age 12 after listening to his older brother's rock records.  By age 16, he also picked up bass guitar and drums to fill in for bands to get musical gigs through high school. 
At age 18 he started teaching music and thought life was good!  At age 20, he fulfilled his life dream by attending two years at the Professional Musicians College in Regina.  This training would finally turn John into the pro he needed to be.  Years of teaching and gigging would follow and eventually John would add keyboards to his resume.
John has written and self published his own guitar method book titled "The No-Nonsense Guitar Method."Music has been his biggest passion in life and always will be.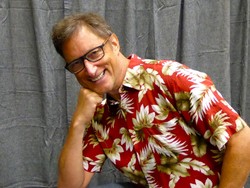 DOUG CROWE - GUITAR
Doug Crowe joined the TCS Music Academy teaching staff in 2016.  He is an actively performing guitarist in Calgary, playing regularly for worship services at his home church, as well as in Calgary's "The AdHoc Band," a group of talented musicians who play fundraisers to help out local charities.  He has raised two very talented sons and offers wonderful expertise in guitar and bass technique for all levels and styles.  Doug is married and lives in the Sundance/Midnapore neighborhood.