School News
Awesome First Day at TCS!
Posted on

September 2nd, 2015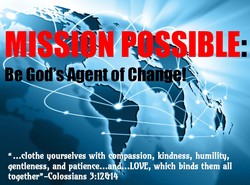 What an awesome first day at TCS!  
We were introduced to our new theme for this year at Chapel followed by a wonderful community gathering at our annual Cobs & Dogs BBQ. 
Our theme for this year is: Mission Possible:  Be God's Agent of Change.
Our theme this year is to continue to answer God's call on our life by serving Him in various ways.  We will make choices to do what God has called us to do.  Our theme song is "I Refuse" by Josh Wilson.  Our hope is we will refuse to stand and watch, not to move and to make excuses instead of serving God as He calls us to.
We were thankful to have had Jonathan Lambert, one of our parents, and Pastor at Experience Church lead us in Prayer.  
We were truly blessed to have the sun shine on us during Cobs & Dogs and have so many families join us.  We even had some grandparents and great grandparents come.  What a great opportunity to mingle with other families and staff.  What a wonderful community we have at TCS!
We are looking forward to an awesome year!  God bless everyone!