School News
Grade 1's are Busy, Busy, Busy!
Posted on

May 10th, 2018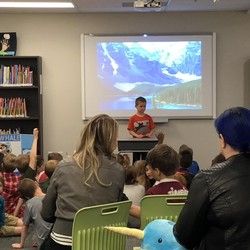 The grade 1 classes have been very busy over the past two days - speeches, Mother's Day Tea and a visit to Granary Road. 
The day started yesterday with a handful of our grade 1's making speeches to their classmates and parents yesterday.  The remainder of the students will make their speeches next week.  It is such an amazing skill to learn as such an early age.  In the afternoon yesterday, the students treated their moms with songs and poetry about how much they love their moms.  Afterwards, the students happily served their moms at their tables.  Nice for the moms to relax.  Today was a fun day filled with activities at the Granary.  Check out some photos below.