School News
Noah's Ark
Posted on

June 11th, 2018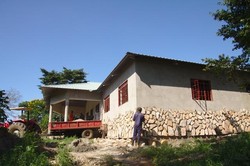 About a month ago our Junior High Students participated in Famine for Family.  The students went out and raised funds in support of Noah's Ark Uganda.  They raised funds for a safe house for abused children.  Students raised upwards of $8000.  Students participated in devotions during the week leading up the the event that aimed on challenging them to do something to minister to others.  Students fasted from 8am Thursday, and broke the fast together with a lunch provided by parents at 12:00 on the Friday. During the fast, they heard from Colton Willms (SunWest Church), watched a video from Mark Clark, and skyped with Piet and Pita, the founders of Noah's Ark.   Students also participated in fun games and activities intended to build community.
A note and photos from Noah's Ark Uganda:
Please check out these photos showing the amazing progress that has been made on the rescue home.  The funds the TCS Junior High raised has made a huge difference and I'm sure the kids will be very happy to see how their efforts have helped move this project forward. As you can see, the home is almost nearing completion now, the good news is that thanks to TCS all of the necessary funds have been raised and they will be able to open the home to children very soon. Please share this update with the students and parents who were so supportive of this project. And thanks again for your partnership, it has been so encouraging to work together to raise awareness and support for Noah's Ark.