School News
Olympic Fever
Posted on

February 12th, 2018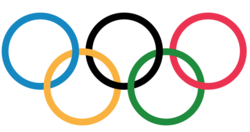 Our TCS community is having great fun getting really involved in the Olympics this year!  We got off to an amazing start with the visit from Elisabeth Vathje, TCS alumni and Olympian.  Our celebrations continued last Friday with the Parade of Nations and Opening Ceremonies.  Each home room has chosen a country to represent.  More activities to embrace the Olympics include:
decorating class doors,
keeping up to date on the medal count on our bulletin board near the front desk or click here for the updated count.  At the time of writing this post, Canada has 7 medals and is in 4th place.
Spirit Week (all this week) -  the students are wearing their country or Canadian colours
Athlete highlights are posted on the TV in the boot room.
Students are playing games similar to Olympic sports.
McKenzie Towne Church is hosting a viewing "party" on Friday and Saturday morning to cheer on and pray for Elisabeth as she competes for a medal.  Elisabeth's runs are both at 4:20am!  Doors open to the church at 3:45am.
Click here for an updated article featuring Elisabeth.