School News
Track & Field Season has Begun!
Posted on

May 10th, 2018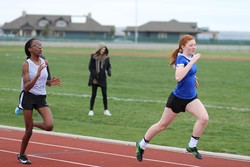 Despite the cold and the rain, our grade 6 to 9 students were able to keep a smile on their faces as they competed in our annual TCS Track and Field Meet.  The Junior High CISAA Track and Field Meet will take place at the Foothills Athletic Park (near UofC) MAP at the end of May.  Date to be confirmed (either Wednesday, May 23rd or Friday, May 25th).  The top 4 finishers will qualify for the Jr High Championship Meet on May 31st.  Good luck to all our athletes.
Thanks to all the volunteers who helped make the meet a success.
Click here to view photos.