School News
What a Great 20th Golf Classic!
Posted on

June 12th, 2017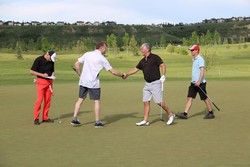 Thank you everyone for making the day great!  We were blessed with wonderful weather, great golfers and lots of fun! Elisabeth Vathje, Christ follower, Canadian Skeleton athlete, lover of adventure, TCS alumni 2009 was our key note speaker.  She shared her journey with our golfers and how her time at TCS was instrumental in strengthening her faith and giving her the confidence to follow her dream of becoming a high level athlete.  
There were lots of prizes handed out.  Here are some of the highlights:
Golf "Winners"
Long Putt - Joanne Purcell
Short Drive - Audra Chase
Ball in Water - Adrian Vickers
Men's Long Drive - Travis Drader
Ladies Long Drive - Karen Kaminsky
Ball in Sand - Edith Boldt
Closest to the pin in 2 shots - Mike Trottier
Most money raised by a golfer - Mark Jonkers
Winning Group - Joseph & Joanne Purcell, Ryan Chase, Adrian Vickers
Most Honest Group - Becky Deckers, Michelle Rust, Edith Boldt, Audra Chase
Closest to the Pin* - Craig Rust
* closest to the pin won a Jaguar for the weekend.  We had two other holes with the potential to win $5000 by getting a hole in one. Unfortunately, no one won these this year.
For more pictures, please check out our Facebook page.
The 2017 TCS Golf Committee is proud to announce that over $14,000 was raised this year.  Thank you to all of our tournament sponsors as this tournament is not possible without you.  In addition thank you to all the golfers who came out for an amazing day at Blue Devil Golf Course. We hope to see YOU next year!