Mission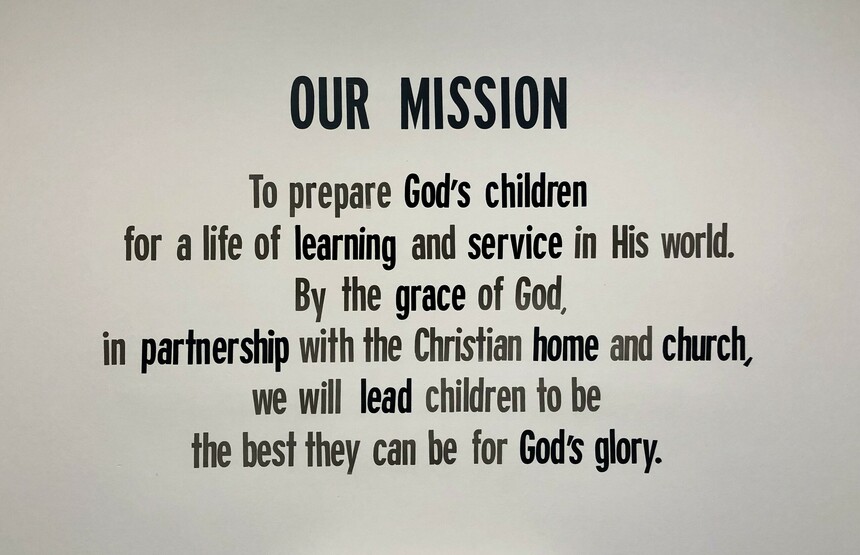 Our mission is to prepare God's children...
We are stewards of God's children - not owners of our children, and not responsible for just our own, but all children, especially those of believers. We are part of a covenant community. This rich and beautiful concept of nurturing all of God's children, contrasts the worldly, consumer driven view of only looking out for its own.
A life of learning and service...
Whether child or adult, our learning is continual. A "life of learning" instills the idea in our children that we never arrive - we are always learning. Further, it is biblical to teach our children to give as in "a life of service". We begin with an emphasis on learning and end by understanding service - giving our learning perspective and balance.
His world...
Are we operating as if this world belongs to God? John 17 states "the world will see that you have sent me and that I love them". Individual perspectives on the world tend to be evil or good. Our job is to show children a balance - that there is evil in the world, but that in the end God is victorious. Note the word "in" - we are in the world, not of it.
Grace of God...
God is sovereign; He has planned everything ahead of time and He is bigger than we are. This school gives us a daily reminder that our accomplishments are not in our own strength, but through God's strength. The foundation of Trinity is our faith - Hebrews 11:1 says that "faith is the substance of things hoped for, the evidence of things not seen." These children are gifts from God that have been entrusted to us for a time and we have faith and hope that God, who has "begun a good work (in our children) will complete it" (Phil. 1:6). This faith and hope is definable - it is real living and based on God's promises. Faith is the present possession of grace; hope is confidence in grace's future accomplishment. This is the cornerstone of our faith; without it, we would not be a Christian school.
In partnership with Christian home and church...
Trinity is one of the few schools in this area that believes in and practices the triangle of church, home and school. We believe our primary responsibility in terms of teaching Christian beliefs is to provide Christian foundational basics; while our homes and various churches provide the doctrinal and theological differences.
Best they can be...
How do we define excellence? While we place a high priority on academics, this alone does not develop children to their fullest potential. Emphasizing high marks above all other aspects of a child's development would compromise our responsibility to honor all of God's children, even those whose gifts are not academic. As a community, we have a responsibility to teach that acceptance is not tied to perfection. If scholastic achievement were to become our only priority, then the values we place on developing a well-rounded child as well as the whole concept of grace are diminished. We strive for excellence in all areas.
His glory...
Why does Trinity exist? What is our motivation? The basis of everything at Trinity is for God's honor and glory.
"Our mission is to prepare God's children for a life of learning and service in His world. By the grace of God, in partnership with the Christian home and church, we will lead children to be the best they can be for God's glory."