Davidson Apple Fundraiser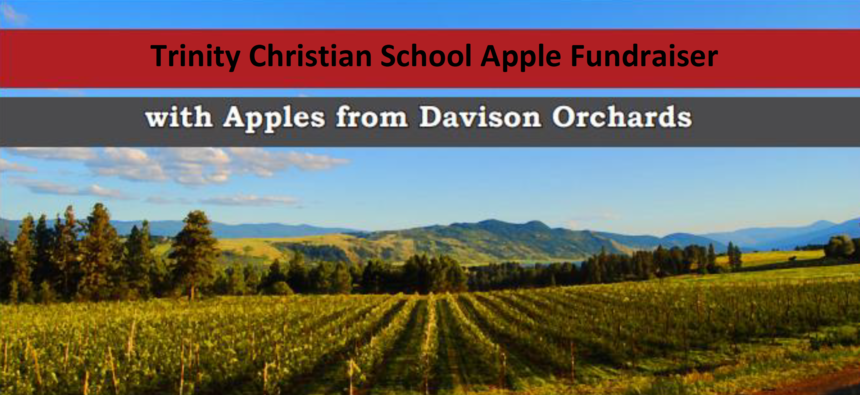 (Hand in one order form per family for a chance to win prizes - see below)
Our Davidson Apple Fundraiser is back!
This is an ALL SCHOOL fundraiser (replaces coupon books).  Great prizes to be won!
Fundraiser: Davidson Apples: Gala, Ambrosia and Okanagan blend apples. Check out their website.
Order deadline: morning of October 7, 2022
Delivery date: October 25, 2022 
Where are the funds going?: teachers classroom funds which buys extras not otherwise covered by the Palliser school board or TCS school fees. 
Thank you advance for your help to fundraise for our teachers!
THE DETAILS!
Each family is responsible:
collect payment for each sale they make

Please make sure to have clients make their payment to you and then submit one etransfer or cheque to TCS with your order.

to keep a record of all their orders. Use this handy tracking form.
submit the final order no later than Friday October 7, 2022
make one full payment for your orders to the school office no later than the morning of Friday October 7, 2022.

payment can be made by etransfer, cheque or cash 

Pick up total orders on October 25, 2022 from 1-3 pm or 3:45-5 pm from the side gym doors.
Distribute apples to your clients
Note to Grade 8 Families: The apple distribution pick up event on October 25, 2022 will be hosted by grade 8 students and parents. Details to gain experience week points will be provided to grade 8 parents.
PRIZES!
There is a fun family prize incentive for selling the apples.
The winners will be announced w/o October 10th.
For every 5 boxes sold: the family name will be placed in a prize ballot to win an Amazon gift card valued at $25.
For every 20 boxes sold: the family name will be placed in a prize ballot to win a Nintendo switch.
There are a total of 3 gift card prizes and 1 Nintendo switch prize per 500 boxes sold by all TCS families.
Thank you in advance for participating in this school wide event. Please email plbouma@telus.net if you have any further questions about this fundraiser.