Back to all posts
Posted on
Day One: Victoria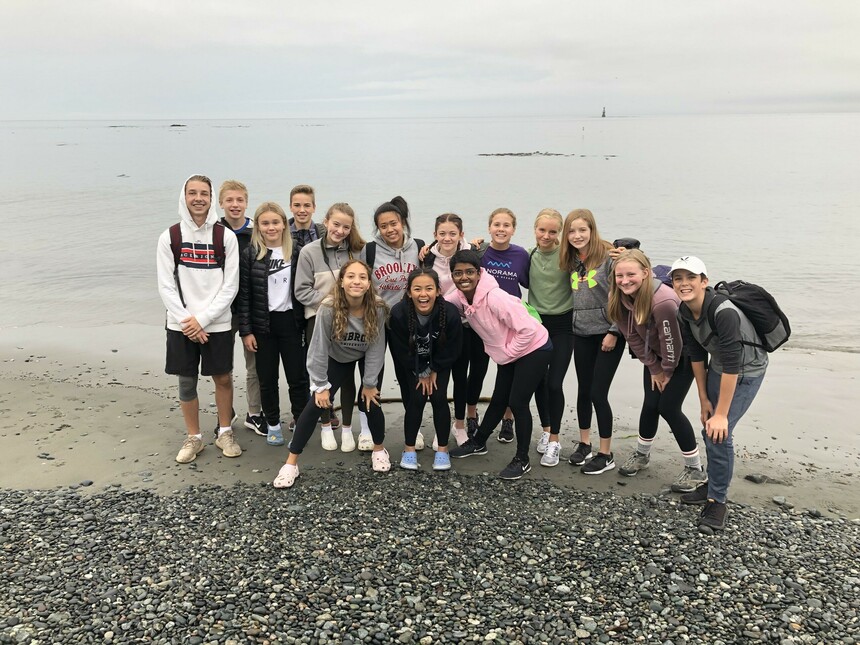 Our trip started out great - early but great.  Five am came early, but the students were very enthusiastic, and after checking luggage, group photos and a few tearful good-byes, we were on our way.  
Landing in Victoria saw steady rain, but the students enjoyed our first stop, the Ogden Point breakwater. The rain let up, and some of the boys helped a fisherman and a large Ling Cod fish. Lots of rocks skipped and pictures at the light house.  The next stop was Beacon Hill, where kids enjoyed a petting zoo (with the world's cutest goats), the world's tallest freestanding totem pole, and many free range peacocks.  Lunch down at fisherman's wharf followed, and by then the sun had come out. Students enjoyed a delicious meal and enjoyed touring the colorful houseboats on the wharf.  Our hike in Goldwater Park was next, with a beautiful hike through old growth forest up to a beautiful waterfall, and no one fell in!  Our last stop of the day was the Esquimalt lagoon, with the long beach of drift wood and sea life.We then checked in to our hotel and the students had a great time in the pool before supper (shout out to Boston Pizza for a great supper).  
We will end our long, tiring and exciting day with a walking tour of the inner harbour to see the Pacific Swift and the Pacific Grace.  Kids are excited about our sailing tomorrow, and everyone is feeling tired but excited for our week ahead.
SchoolGuide Link to Photos
SALTS Day One