Drop Off and Pick Up Protocol
Parking - Staff & Visitors
Please park in the designated areas only.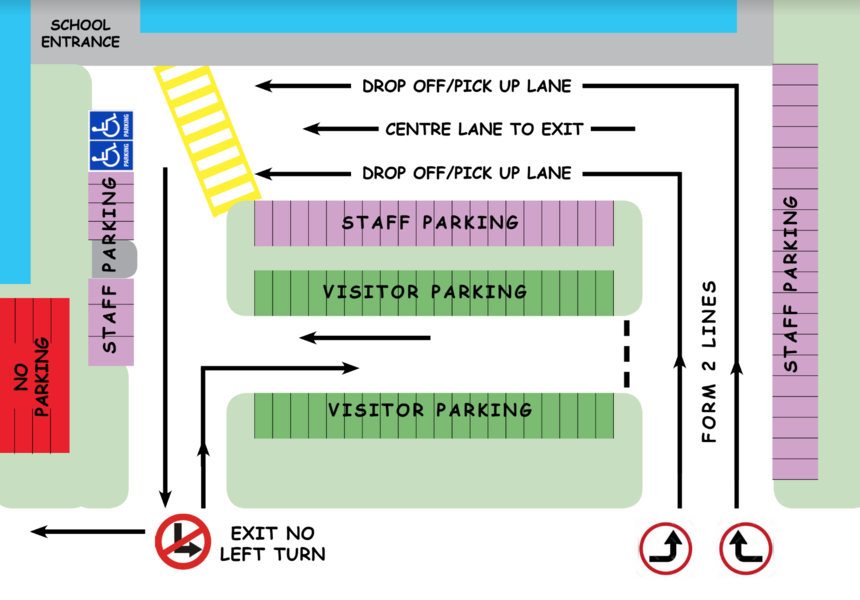 TCS PARKING LOT GUIDLINES
If the parking lot line is full please do not stop on the road. You must keep moving and circle around the block. The city does not permit vehicles to stop and wait on the road as they interrupt the flow of traffic.
Please do not leave your vehicle at any time in the drop off/pick up lanes along the sidewalk or beside the parked cars as this prevents the traffic from moving effectively during drop off and pick up times. You need to find a parking spot in the designated parking stalls if you want to come into the school.
Please park in the designated stalls only. 

See diagram for Visitor spots.
Please do not park in designated stalls that belong to the church or those who have "won" the luxury of having a private stall through the annual dinner auction spots.
If all spots are full, please park on the street until a spot becomes available.

Please use the cross walk when crossing the parking lot, even when children are with an adult
After School Pick Up Protocol at TCS & Wingate Inn
Please see the attached document for detailed  After School Pick Up Protocol at TCS and Wingate.
In the image for Wingate below, only the green area is where we are allowed to park.  We are not allowed to park anywhere else on their property, as indicated below.