Back to all posts
Posted on
Another Successful Volleyball Season!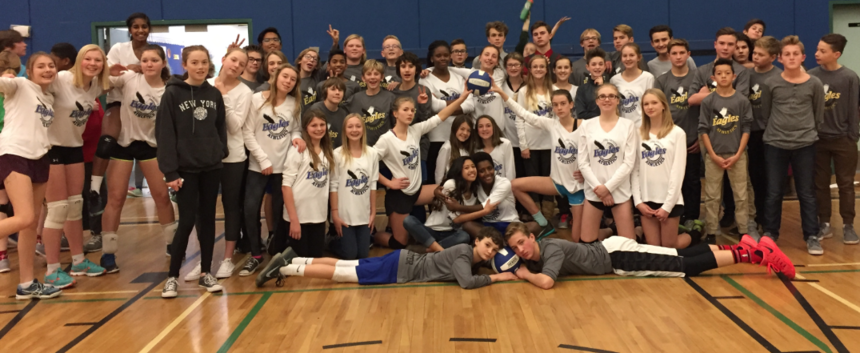 What an awesome volleyball season our Eagles had! We were once again blessed with an amazing support system of volunteer coaches, parent managers, and committed and prayerful parents/fans. Without this passionate support, the Trinity athletic program would not exist. I would like to especially thank our coaches:
Jay and Kendra Lake - Grade 7 Boys
Yarek Bartosz and Dawnyshia Dykshoorn - Grade 7 Girls
Richard Merritt and Julie Vander Veen - Gr. 7/8 Boys
Becky Dekkers - Gr. 7/8 Girls
George Graffunder and Derek Sheahan - Gr. 8/9 Boys
Joyce Verhoeff and Steve McMillan - Gr. 8/9 Girls
Our grade 7 teams had a unique experience this year as this was the first year the CISAA used the Tripleball format in the grade 7 leagues. The players were able to better focus on their passing and team play through this format. Both our gr.7 boys and girls made it to the finals where the girls got silver and the boys won gold!

The grade 7/8 teams (made up of only gr. 8 students) continued to grow together from their previous season. They both had successful seasons on the court and as a community off the court. Both the boys and the girls medaled in at least one tournament throughout the season. They ended their seasons playing good Trinity volleyball in playoffs. 

Our grade 8/9 teams had great competition all year in both league play and tournaments. As you can imagine our Eagles rose to the challenge! Our girls made it to the finals in many of their tournaments and won gold at our first annual TCS home tournament. The boys also fought hard their entire season with many close gruelling games. Both teams went deep into playoffs where the boys earned 3rd place and the girls won gold in a dramatic 3 set game against CCS.

It is a real blessing to watch our athletes grow so much from the beginning of a season to the end. Not only are skills taught and learned, but confidence is built, unity is formed, and the love of Christ is experienced and lived out. 
Andrew Dykshoorn
Athletic Directory