Back to all posts
Posted on
Volleyball 2014: Grade 9 Boys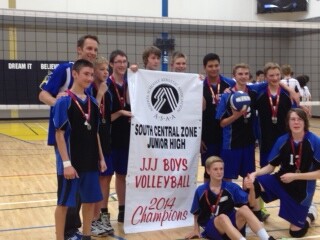 The grade Nine boys Volleyball started off this year with a group of kids that did not know how to play the sport of volleyball at very high level. We couldn't pass, set or hit the ball with consistency. The chances of us winning this season were very slim. Then we won our first league game against Rundle College. This was the beginning of our season of hard work and determination. Now we had our first tournament at Red Deer Lake school. We fought really hard even though Devin Vriend, one of our best players, was not there. We made it to the final but we lost to Rundle College. After the tournament, we had a week to practice before our next tournament at Rally Point. We came second again.
We had a couple a league games. By this point in the season we were undefeated and first place in our league. Then we played against Rundle again. We lost in 2 sets. After the game, Mr. J pulled us aside and asked us what our goals were for this season. Everyone's goals were different but the main goal was to win ISAA championship and go to South Central Zones. We played two more league games which we won. After that, we went to E.P Scarlett for another tournament. The difference between this tournament and all of the others was that we got gold.
In our next league game we played the Royals from GCA. This team was known for being loud and getting into your head. They beat us two sets to one. This was our second lost in league play. That was the end of the regular season. We finished second place behind the Cobra's with eight wins and two loses.  We had our third tourney at Centennial. We got to the final but loss to GCA. We then went on an airplane to Victoria to enjoy a week of sailing knowing that when we came back that we would have playoffs.
We came back from Victoria not having touch a volleyball in a week.  Mr. J told us to come to his office after gym class. He told us that it was okay if we didn't win but we knew that we wanted to win. We practiced whenever we could before playoffs. On October 30, playoffs were hosted in our "barn". There was mixed emotions. Some were nervous, some wanted revenge, and some were confident. We wanted that banner but we knew that before we could go to the final we have to play GCA. We won the first set pretty handily but the Royals came back and won the second. Then we won the third. We won against GCA but our next game was against Rundle for gold.
We had an hour break in between the games. We got ready for by hydrating, eating banana's, and focusing on what we need to do well. Finally, the game we have been waiting for since September. We were ready to win. The game started off good with us winning the first set. The second set wasn't the greatest with the Cobra's beating us. We had to go to a third set. Is was close but we won by two points clinching gold and the ISAA 3J Boys banner. The whole team went crazy with joy and happiness. For most of us guys, this was our first championship gold. Our next challenge was Three Hills and the undefeated Menno Simons Mustangs.
 Three Hills was a blast. We shot fireworks, swam in the pool, and stayed up past the hotel curfew. We also did well in the tournament get second. Even after the great efforts of climbing back in the second set we still lost to the Mustangs. We then had a week to practice then we had the most important tournament of the year, South Central Zones. This year it was in Carstairs at Hugh Sunderlin School. Our first two games were against Holy Cross and Strathcona Tweedsmuir, we lost both games.
Then we went out for lunch and had a team meeting and then we won our games and made our way to the finals. We won our first set vs Rundle and won so we were up by one set. So the second set we were up the whole time then rundle got some points and evened it out. It was close but we won the second set securing the SCZ banner. Our team wasn't expected to win anything but we fought hard and came out on top.
Two valuable character traits we learned this year are team-work and perseverance
A big thank-you to our awesome coach, Mr Jonker!

-Devin and Eli