Back to all posts
Posted on
Back to School Update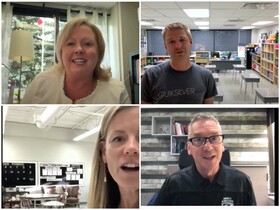 Dear TCS Families,
We are so excited to welcome everyone back this fall.  We have prepared a video for you with several updates as we plan for our return to school.
TCS August 6, 2020 Video Update
Also, please find attached Palliser's first draft of the re-entry plan by clicking here:  www.pallisersd.ab.ca/download/287291 
As we prepare for our return to school, we are planning a staggered entry for the first two days of school that will allow all of us to transition back smoothly.  Please note which day will be your family's day to attend school.
Wednesday, September 2 (8:25am - 2:00pm) for students in grades 1 - 9 whose surname begins with A - L. 

Thursday, September 3 (8:25am - 2:00pm) for students in grades 1 - 9 whose surname begins with M - Z.
These two days will be exactly the same.  The plan is for students to meet with their grade cohort on the school field between 8:10 and 8:25 on their respective first day of school.  Parents are invited to walk with their child to their grade cohort on the field. Once the class is ready, the teachers, EA's and students will enter the building through their designated entrance/exit door.  We are utilizing 7 points of entry which we will outline closer to school commencing.  Parents are then welcome to stay behind on the field to connect with our admin team or are free to leave.  Parents will return to pick up their child(ren) at 2:00 pm.  For grades 1 - 2, please pick up your child from the same spot on the field.  For grades 4  - 9, you may pick up from the field, another designated position in the parking lot or at Wingate. 
Friday, September 4 (8:25am - 12:30pm) for all students in grades 1 - 9. 
Students can be dropped off between 8:00am and 8:15am where they will go to the playground.  At 8:15, all doors will be open and the students will enter through their designated door.  School will begin at 8:25 and end at 12:30pm.
Kindergarten families will also have their first day of school on September 2 and 3, but with a different schedule for those days.  Please watch for information with the specific details that will come out early next week to our Kindergarten families. 
Alberta Health Services has mandated that masks be worn by staff for all grades and students in grades 4 - 9 when inside in common areas and when physical distancing is not possible. Masks are optional for K - 3 students.  All students in grades 4  - 9 will be supplied with two reusable masks from the Alberta Government.  We are very pleased that we have lots of space to spread out due to our building and class sizes which will provide times in our day when students and staff will not need to wear a mask if they are comfortable with this.  
We will continue to connect with you as more information or details become available as we prepare to start this new school year.  As well, we appreciate hearing from you.  I have attached a parent survey which would be helpful if you can complete it by August 11 so we can continue with our plans and preparations.
We wish all of you health and safety as you enjoy the last few weeks of summer.  We will see you soon. 
Blessings,
Michelle