Back to all posts
Posted on
Welcome to Our TCS Family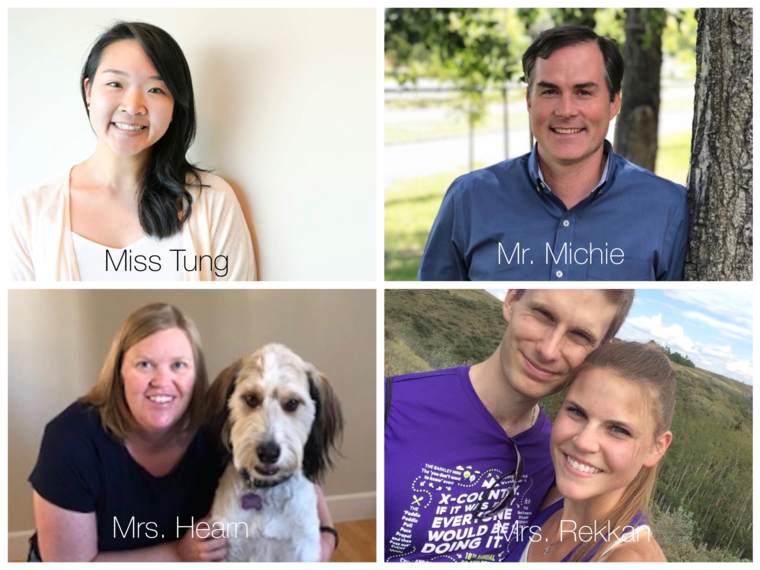 Please give a warm welcome to our newest family members and staff.  This year we are blessed to have almost 40 new families and 50 students join our TCS community this week.  We are also blessed with four new staff members.  
Miss Chelsia Tung is joining us as our new Grade 6 teacher.
From Miss Tung "I am excited to be teaching at Trinity Christian School. I hold both a Bachelor's Degree in Biological Sciences (minor in Psychology), and a Bachelor of Education (specialization in Sciences) from the University of Calgary, and have been teaching for 3 years. I strongly believe that every child is capable of learning, and my desire is to guide all students to appreciate lifelong learning as they discover their own unique passions and gifts, and grow to become inspiring, caring, and responsible ambassadors for Christ in our ever-changing world. I welcome a community that encourages joy, curiosity, wonder, freedom of expression and creativity through hands-on learning, as I honour and appreciate who students are, have been, and are becoming.

I especially enjoy working with young people outside of school by teaching piano, volunteering at the Alberta Children's Hospital, and assisting at educational psychology clinics and in neuroscience labs through the university. In my free time, I love playing on worship teams, hiking, reading, and painting! In teaching and life, I strive to live out every day that genuinely exemplifies "Loving the Lord our God with all our hearts and with all our souls, mind, and strength. And 'loving our neighbors as ourselves' as there is no commandment greater than these." – Mark 12:30-31."
Maury Michie as our new Grade 5 teacher.
Mr. Michie is very excited to join the Grade 5 team. Many of you may already know Mr. Michie as he has been a part of the TCS community for many years. In the past few years he has taught violin at the TCS Music Academy and has also been a guest teacher here. Mr. Michie looks forward to encouraging spiritual and academic growth in his students.
Mrs. Hearn will be an Educational Assistant in Grade 3 as well as teach some elementary music classes.
From Mrs. Hearn " I am so looking forward to being part of the TCS team teaching team this year! I have over 15 years' experience teaching children from preschool up to grade 4 in Canada and the UK. I love the energy in an elementary classroom; my wish for all my students is that they develop a passion for learning. I love using books in class to develop empathy and understanding among young students, (alongside building literacy skills!). From the Bible to "The Gruffalo" there are so many lessons to learn!I am also a proud mom of two active boys. I spend most of my time outside school at the side of many soccer pitches in Calgary. My other interests include reading, music, and skiing. Although this school year looks a bit different, I am confident in God's Plan and try to rely on Him in these uncertain times."Humble yourselves, therefore, under God's mighty hand, that He may lift you up in due time. Cast all your anxiety on Him because He cares for you."I am excited to be part of the TCS community and can't wait to meet everyone next week!"
Mrs. Beka Rekkan is joining as our interim Grade 5 Educational Assistant.
From Mrs. Rekkan "I am very excited to be joining the Trinity community this year! While I am originally from the country outside of Edmonton, I recently moved to Calgary with my husband Mark, where we are loving the city life and are excited to welcome our first child in the winter. I hold a Bachelors of Arts from Concordia University and completed my Education After-Degree at The King's University. While all my training and practicum experience was in the junior high realm, I had the privilege of teaching Grade 6 and Grade 4 the past 2 years and just loved it! I also am a running nut and have coached cross country and track for 10 years. In my spare time you can always find me running (someday I hope to run "around the world"), as well as coaching, socializing, reading and discussing the Bible, cooking, and exploring new things. In all my teaching and coaching experience, it has always been the relationships and watching my students grow in character and knowledge that I love most. I believe that God has that I love most. I believe that God has called and equipped all people for their own unique race, and my desire is to be able to coach, encourage, and facilitate students discovering their gifts and talents and using them for the glory of God and the service of others. I love to learn, collaborate, and encourage and I cannot wait to step into a support role this year at Trinity Christian!"