Back to all posts
Posted on
Canadian Author Sigmund Brouwer: It Rocks to be a Story Ninja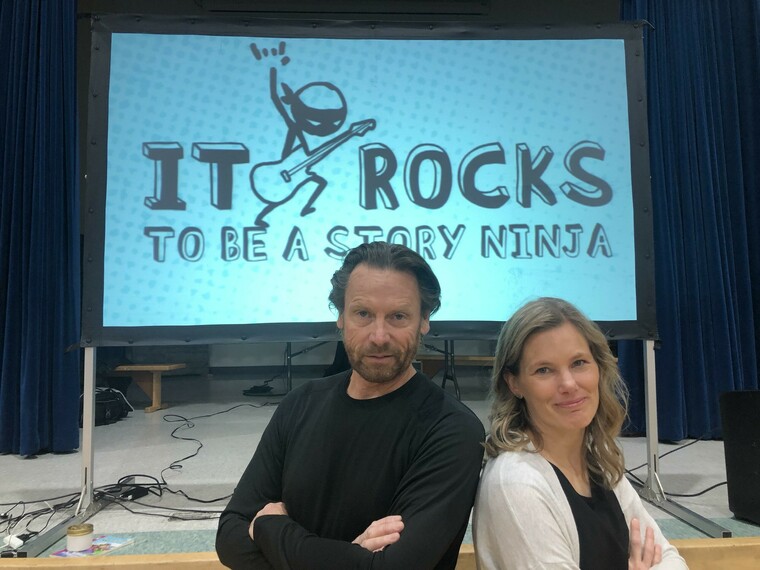 Canadian author Sigmund Brouwer visited us at TCS two weeks ago and our students (grades three through nine) are still talking about him!  Why? 
He is a presenter with energy galore and an enthusiasm for story telling!
Sigmund captivated the students from the moment they walked in the gym with his combination of music and his keen sense of play.  He continued to keep everyone (including the staff) enthralled with media, activity and reading.  His story-writing tricks were empowering for student and he also combined it with idea generation by sharing how his story ideas came about.
His tips for story writing are practical and inspiring including:
Great stories are like great songs, they grab your feelings.
You can't write a story until you first daydream a story.
Take the time to get familiar with all of his tips, Rock and Roll Literacy Story Ninja Tricks, and encourage your children to use them to cultivate their own reading and writing skills.
From our teachers:  
Sigmund Brouwer was AMAZING! He was an incredibly captivating speaker, and did a wonderful job of engaging all students (and staff!). My students came back excited to write.
I look forward to reading through the information that he will send, and will look to find fun ways to bring "Writing Ninja" strategies into my classroom.
Love Sigmund, thought he was relevant and engaging and made good connections to what teachers are doing already in the classroom.  
With over four million books in print, Sigmund Brouwer is a bestselling author of both children and adults books. His novel, Dead Man's Switch, is the winner of the Arthur Ellis Award for Canada's best young adult mystery of the year and was a finalist in the TD Children's Book Awards. His novel for grownups, Thief of Glory was selected as the a Book of the Year for the American Christy Awards and is a winner of the Alberta's Readers Choice Awards.

He loves going to schools to get kids excited about reading, reaching roughly 80,000 students a year through his Rock&Roll Literacy Show. (www.rockandroll-literacy.com)