Back to all posts
Posted on
Dinner Auction: An Evening of Friends, Fun and Faith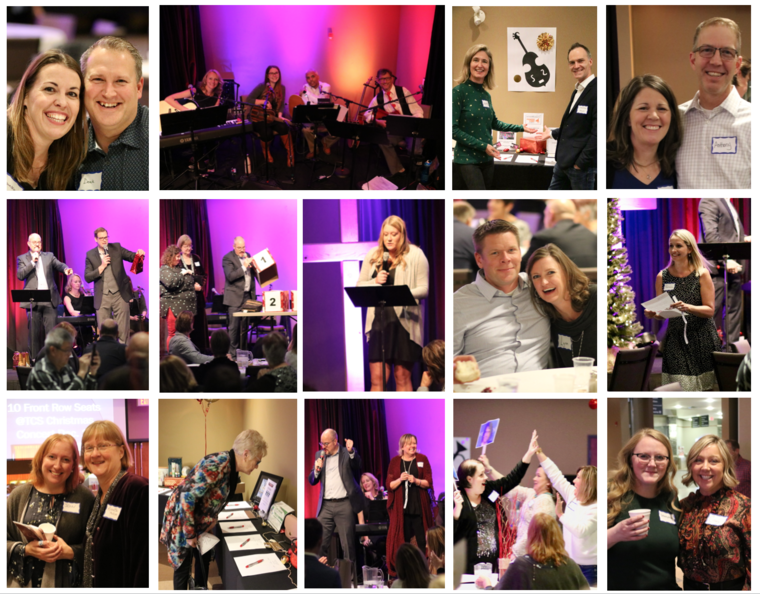 This weekend we celebrated the start of the Christmas season at our Jazzy Christmas Dinner Auction. Each year we have our event as a fundraiser but, in reality, it is much more than that.  It is an opportunity to spend time together and bond as a community. It was great to see so many smiles and hear all the laughter.  It was the perfect blend of friends, fun and faith.
We were also blessed by a wonderful speech given by our own Maria Collins.  Maria spoke on her unique perspective of Trinity.  Having been a student at TCS and now a teacher, Maria explained how she can clearly see why families choose to send their children to TCS.  Maria had two moving and meaningful messages:
It's that strength of community that drew me back to Trinity!
"One of the things I was most excited to see hadn't changed was some of the people that helped to make my time at Trinity so memorable. For instance:
My grade 2 teacher was Heather McCollister and my grade 7 teacher was Kendra Lake. In my homeroom this year, I have both of their daughters!
Mark Jonker was my grade 5 and grade 8 teacher, I now coach against him in sports
George Graffunder was my grade 6 teacher… This would be the point in which I would roast Mr. G  - but I would never do that!
Karin Booth, Erik Holder, Sandy Stasko, and Ralph Carter were all a part of the community during my time here.
It is a testament to the strength of community for people to still be involved in the same school years later. It's that strength of community that drew me back to Trinity!"
At TCS you are not only investing in your child's education,  you are also investing in their character growth. 
"The school theme this year is 'I AM', and the focus for the month of November is on "I am found".
While attending Trinity I can confidently say that I was found. I never felt unnoticed, dismissed, or lacking in value. I was built up, some would argue a little too much, and was taught to see my value and who I was created to be! I had beliefs instilled in me from a young age that were reinforced at church, at home, AND at school. This taught me that I didn't need to compartmentalize my faith and helped to solidifying it into my being. I had the opportunity to share my beliefs in class, and to learn from my teacher's about their faith. The sense of community I felt at Trinity was palpable. It's hard to explain the feeling you get when you share a prayer request with your peers and you hear them pray for you, and follow up with you days later to see if everything is okay! Trinity was a place for me where it was safe to takes risks and make mistakes. It was a place where grace abounded, and you didn't have to go far to feel loved! There is something unique about a community of brother and sisters in Christ joining together to learn Alberta curriculum."
Thank you to everyone who made the night possible including all the volunteers (Dinner Auction Committee, Parent Volunteers, Maria Collins), donators (parents and companies) and all the attendees at our event.  It is the support of this great community that makes an event like this possible.
Jazzy Christmas Dinner Auction