Back to all posts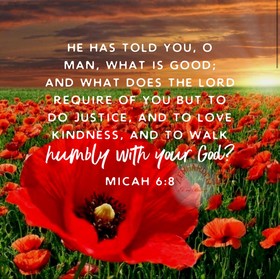 GAME CHANGERS focus on "justice" for the month of November.
As we seek to pursue justice in God's world, we remember and thank veterans and those in active service for their great sacrifice. May we remember, as the body of Christ - His Church - to courageously reach beyond ourselves, filled with His Spirit,  into all of God's creation in order to demonstrate justice and righteousness to a world ruled by power and wealth, by being a voice for the voiceless. May our lives point to the redemption of Christ as we seek justice, hating evil and loving good (Amos 5:15).
Memory verses:
Open your mouth for the mute, for the rights of all who are destitute. Open your mouth, judge righteously, defend the rights of the poor and needy. Proverbs 31:8-9
He has told you, O man, what is good; and what does the Lord require of you but to do justice, and to love kindness, and to walk humbly with your God? Micah 6:8
Please join us on Wednesday at 10:30 am as we honour Remembrance Day.