Back to all posts
Posted on
KINDERGARTEN 2021-2022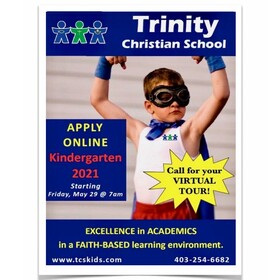 Starting Friday, May 29 at 7am you can APPLY for KINDERGARTEN 21-22 ONLINE.

ONLINE Application: www.tcskids.com/apply-now/apply-now 

Due to the current COVID-19 situation, our building is closed.  However, we still remain available to help guide you and your family through the process of finding the best school environment for your children. 
If you have any questions, before the application goes live or while you are filling it in, please feel free to contact Audra Chase, our Admissions Coordinator.  She can be contacted by email at audra.chase@pallisersd.ab.ca or 403-254-6682 ext. 280.

HERE ARE WAYS TO GET TO KNOW OUR KINDERGARTEN PROGRAM:

God bless you as you set out to help your children find their way.