Back to all posts
Posted on
Taking Learning to a Higher Level!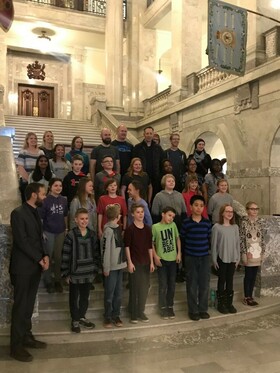 Each year, our grade 6 students embark on a wonderful adventure to Edmonton.  The entire journey is intended to spark student thinking regarding "What is Their Destination".  We discuss the importance of focusing on learning on the trip, but on a grander scale we challenge students to consider their destination this year, in Jr High, and in life.  Our trip includes a number of curriculum related and engaging stops.  Our first stop is the Legislature where we are given a tour of the grounds and we review the information that we have learned in class regarding the provincial government.  From there, we make our way to West Edmonton Mall.  This activity is in direct connection with our Phys-Ed curriculum and is a wonderful community building experience.  In the evening, we gather together for some games and a program of worship and devotion.  The next morning, we make our way to the Science Centre to tour a number of their exhibits.  We also participate in a hands-on learning activity lead by one of the Science Centre's team.  These exhibits and experiences link directly to the Science curriculum.  Our adventure is one of fun, community building, and hands on learning.  It is often a highlight of TCS students for years to come.
A big thank you to all the parent volunteers who came along as chaperones. 
Grade 6 Edmonton Trip