Back to all posts
Posted on
100 Days Smarter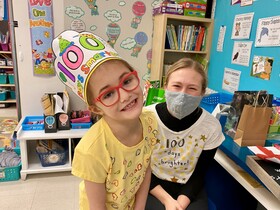 Our Grade 1 -3 students had an awesome day celebrating 100 days!  Not only did they play some great 100 themed games, they also spread kindness by making Valentine's cards for first responders!
Their activities included:
Race to 100 Dice Game
Making Fruit Loop necklaces with 100 fruit loops
Virtual Bingo
100th Day Story read by Mrs. Dumiel
The  students were excited to make cards knowing they were going to be delivered by Mrs. Hodge to the Alberta Children's Hospital and to our local paramedics with EMS.  Before making the cards the students were inspired with a devotional about The Good Samaritan and watched a music video of an Alicia Keys' song "Good Job" covered by  One Voice Children's Choir | A Tribute to Covid-19 Heroes.  Make sure you have the kleenex close by while watching this video.
Congratulations to everyone for reaching 100 days of school this year.
Hip Hip Hooray!
You made it to 100th Day!