Back to all posts
Posted on
Beauty & the Beast: That's a Wrap!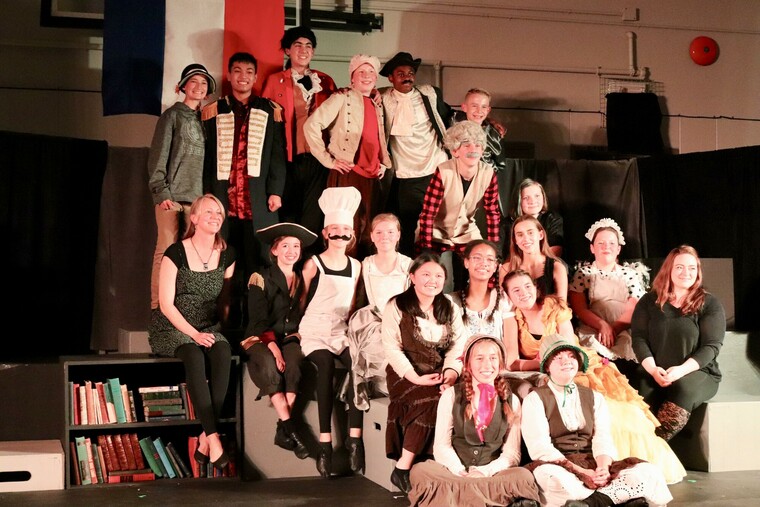 "Such a great show! Very fun production and the cast was amazing!!"
"FABULOUS production!"
"Amazing production. Amazing kids! You all did such a great job! Well done!"
"The show was A-MA-ZING."
Our JH TCS Theatre group did a FANTASTIC job bringing the story of Beauty and the Beast alive and it was loved by all who had the opportunity to see it.  The show had everything to keep you entertained – singing, fun choreography, good comedic timing.  After seeing the show you could hear students singing the songs in the hallways.  The show was enhanced with great set design, beautifully made costumes and well timed music and lights.  
Congratulations to everyone who made this show possible!
Student Cast & Crew: 
Connor M - Tech Team
Coral S - Lumiere / Ensemble
Dana L - Madame de la Grande Bouche / Mr. d'Arque / Ensemble
Deacon S - Lumiere / Ensemble
Delora E - Cogsworth / Ensemble
Fiona G - Mrs. Potts / Ensemble
Hugh S - Maurice
Jared H - Chip / Ensemble
Jirehl D - Beast / Ensemble
Joseph H - Gaston / Ensemble
Kalaya G - Narrator / Ensemble
Kobin H - LeFou / Ensemble
Lily S - Belle / Ensemble
Madison L - Babette / Ensemble
Maggie L - Stagehand
Mikayla S - Stagehand
Naomi N - Mrs. Potts / Ensemble
Peyton F - Babette / Ensemble
Shahana H - Enchantress / Ensemble
Sophie T - Belle / Ensemble
Production Team
Charlotte Loeppky - Director / Producer
Anastasia St. Amand - Movement and Fight Direction
Alyssa Stasko - Dance Choreography
Dedre van Schoor - Costume creation
Mory Peterson - Sound and Lighting Design
Leslie Hedley / Art Options Class - Set Design
Special thanks to Morpheus Theatre for the use of costumes.    
NOTE: more photos have been sent directly to the cast