Back to all posts
Posted on
Buddies and Butterflies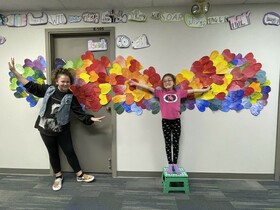 Despite the restrictions this year, our students are still super excited to get to know their buddies. They have come up with some very creative ways to connect safely.  Earlier this year the Kinder Kids were able to do window art and outdoor games with their Grade 5 buddies.  When our Grade 6 buddies were looking for an activity to do with their Grade 1 buddies, an art project took on a much bigger role bringing joy to the entire school and especially for Grade 1 students.
Here's how it all started:
Earlier this year our 6C class wanted to create something colourful and vibrant - joyful and hopeful - in our hallways, with a Valentines' Theme and the verse Isaiah 40:31 which came to mind, with our hope in the Lord that enables us to soar on wings like eagles.   6C studied the concept of 'gradient' by painting hearts. 6T designed and created a personalized version of the full verse. 
"But those who hope in the Lord will renew their strength. They will soar on wings like eagles; they will run and not grow weary, they will walk and not be faint." Isaiah 40:31
The art project ended up looking more like a butterfly in the end...  With Valentines Day around the corner the Grade 6 classes took photos with their Grade 1 buddies and used the photos to make Valentines cards and bags.  The bags were filled with items purchased treats from the Tiessen Store using their hard earned Tiessen Bucks that they have saved up, or brought candies/treats from home. Grade 6  were super excited to deliver their creations to their buddies before the break.