Back to all posts
Posted on
Canadian Author Hazel Hutchins: Where do I get ideas?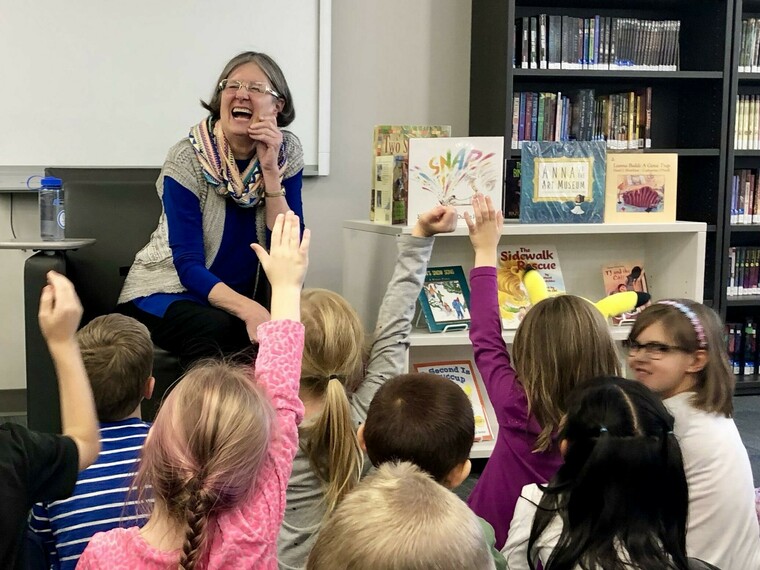 Canadian author Hazel Hutchins visited our Kindergarten to Grade 2 classes today.  Her love for writing, her enthusiastic story telling and her love for children filled the library as she helped our students learn the art of writing.  She helped them understand the process of writing - finding ideas, writing and rewriting (up to 50 times sometimes!), as well as how an illustrator turns her words into pictures to help tell the story.
Where do I get ideas? Everywhere! Out for a walk, visiting schools, hanging out with friends, reading interesting facts in a newspaper, listening to people talk or thinking about things that have happened to me – I'm always on the look-out for a good idea. I jot down ideas in a notebook so I don't forget.
I begin the stories by writing longhand, very similar to the way you write in school. Although I am not good at art, I do love to doodle. Sometimes my notebooks can get pretty messy.
When I feel I have an interesting story, I type it into the computer. At this point the long process of rewriting begins ... change the story, print it out, change the story, print it out ... until every line is as polished as I can make it.
When an editor likes a story, he or she passes it along to an artist. I love all the talented people who have done the illustrations. 
Author Hazel Hutchins has been writing books for children for over twenty years....and has enjoyed every minute of it! Hazel has written over 50 books for children up to grade 5.  Her books have been published around the world in many different languages. Hazel knew she wanted to be a writer from a very young age. Her parents get a lot of the credit.  Her mom read to her every night and dad recited dramatic poetry. For information about Hazel click here.
Author Hazel Hutchins