Back to all posts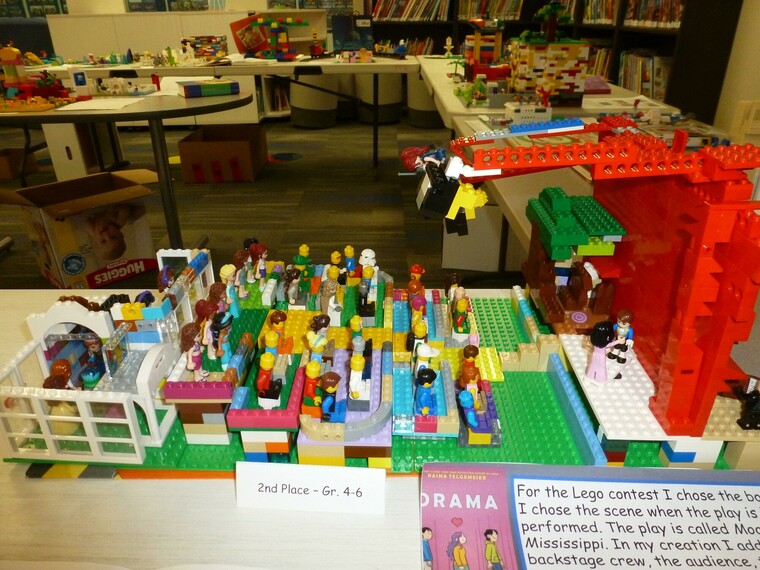 What do you get when you combine reading and lego?   You get students using their creativity and problem solving skills while having a ton of fun!  This year we had 54 entries and around 90 students participating in our annual Lego Contest.  Congratulations to ALL of our participants on a job well done. As always it is a very difficult task to decide the winners.  Please see below photos of this year's winners and their creations.  
2019 Lego Contest Winners
71 entries, but 17 no-shows, so we judged 54 entries this year; 90 students participated.
36% were boys and 64% were girls!!
We would love to see 100% of those who enter to follow through and bring in a creation!
Honourable Mentions   (dog tags)
Kayla S – Gr. 1
Samantha M – Gr. 6
Ayden V – Gr. 6
Jessica N and Cade P – Gr. 4
Jayden S – Gr. 6
Bella D and Kaitlyn S – Gr. 3
Best Book Depictions (medal and $5 each)
Jaci Ja – Gr. 2 Moosekitos
Lauren H, Sadie B, & Ainsley M – Gr. 3 for
            The Amazing Days of Abby Hayes:  Look Before You Leap
Ian S – Gr. 3 The Grizzly Attack
Rosalie & Elizabeth R – Gr. 5 and 2 Soul Surfer
K – Gr. 1
3rd place (trophy):                 Elizabeth M – K
2nd place (trophy and $5):    Joshua F – K
1st place  (trophy and $10):  Greta Y – Gr. 1
Gr. 2/3
3rd place (trophy):                 Jacqui B – Gr. 3
2nd place (trophy and $5):    Jacob B – Gr. 2
1st place (trophy and $10):   Nolan V – Gr. 2
Gr. 4 – 6
2nd place (trophy and $5):    Annella B – Gr. 4
1st place (trophy and $10):   Alise N – Gr. 4
Groups of 3 or 4 students
2nd place (medal and $20 to share:              Ava P, Keziah H, & Hillary M – Gr. 5                         
1st place (medal and $30 to share):             Joseph S, David D, & Ethan A – Gr. 5
Groups of 2 students
2nd place (medal and $10 to share):             Madeleine & Elyanna B – Gr. 4 & 6
1st place (medal and $20 to share):                         Micaiah C & Mya J – Gr. 4
Lego Contest 2019