Back to all posts
Posted on
TCS Kindness Challenge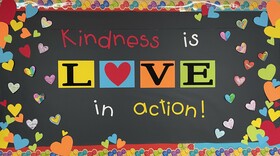 Thanks to everyone for your efforts to be KIND during our Kindness Challenge for the month of March!
Keep up the great work!!
Throughout the month our elementary students participated in a number of Kindness Challenges.  One of the fun activities was a Kindness Poster Contest.  Kindness was spread all over the school with over 200 entries.
They were all fabulous!  Watch the video to see many of the submissions.
The winners of the draw are pictured below …...