Back to all posts
Posted on
Walkathon Celebration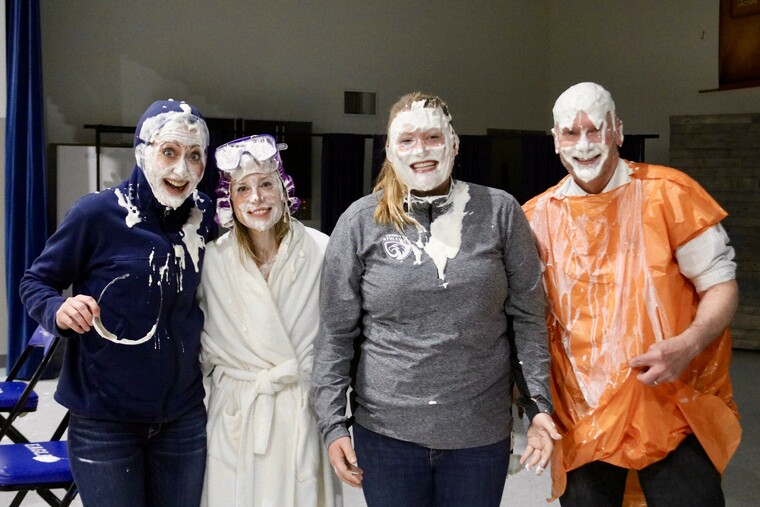 Our TCS community is AWESOME and SO MUCH FUN!  Not only did we nearly raise $20,000 from our Walkathon ($19565.34 to date - more donations still coming in), our teachers were great sports and got PIED!  The deal with the students was for every $5000 they raised they got to pie a teacher.  $20,000 meant 4 teachers.  The students got to vote which teachers would be pied. The teachers that got pied were Mrs. Wenzel, Mrs. Okada, Ms. Collins and Mr. Holder.
Our community voted previously on where are donations would be allocated:
Blessing our neighbourhood by being community builders and donating funds to the St. Teresa of Calcutta Playground Foundation. They start construction of a playground in the fall. Mme. Roth and Mme. Russo were on hand to accept our donation.
portable soccer nets for our field. 
a new school sign that will allow us to share TCS news and the message of  God's love in the community.
Prizes were given out to the top fundraisers in our school.
In K-6 our top fundraisers were:
1st Paige V 6T  
2nd Noah K 1K
3rd Sydney V 4M  
3rd Abigail M 3H
In Jr, High our top fundraisers were:
1st Kate M 7V
2nd : Joseph H 7S & Julia L 7V
In the draw for the choice of an iPad or PS4 for raising $250 or more there were 27 names, with some students having up to 5 tickets in the draw, Sydney V from 4M was the winner.
Can't wait until next year....
Walkathon 2019


























Walkathon Celebration 2019