Back to all posts
Posted on
We're ALL in this TOGETHER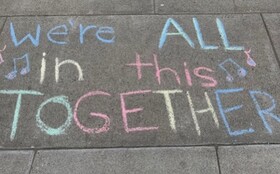 At TCS we pride ourselves on the closeness and the strength of our community.   With the onset of COVID 19, our commitment to one another is even more apparent and welcomed.  Staff, parents, extended family and students have all demonstrated support for each other - we're all in this together.  Here are just some of the ways we are keeping in touch and staying close while we are apart: 
Mr. Roper's Daily Challenge: a fun challenge posted daily on Mr. Roper's Instagram @mrroper.tcs and #mrropersdailychallenge.  If you would like to participate and would prefer to send us your photos or videos to post sent them to dawn.peart@pallisersd.ab.ca.
Crazy Hair/Hat Day: During these times, I am sure we all have crazy hair but on this day many of our students and parents took it to another level.
Grandparents' Tea:  This is an annual event that our students and their grandparents and special friends look forward to every year.  We normally have more than 100 attend our tea as well as have a chance to see our students in their classrooms.  This year many of our students continued this tradition virtually. Our students made the time special with decorations, using their fancy cups, enjoying cookies, reading stories, singing songs and playing the piano! This year we had families who have not been able to attend in the past due to living too far away but this year were able to participate. 
Serves Day: Last Friday was our third annual Serves Day.  It's a day where all of our students have the privilege of going out and practicing being the hands and feet of Jesus.  This year our students served staying close to home helping around the house and spreading positive messages. Do you have a photo to share, please send to dawn.peart@pallisersd.ab.ca
Look Who Got Caught Reading; Our librarian, Mrs. Heerema, helps promote reading with her "Look who got caught reading" contest.  This time she is looking for students reading Graphic Novels.  Send in your photos to dawn.peart@pallisersd.ab.ca by April 30th for a chance to win a gift card from Indigo/Chapters. 
Sharing "At Home" School Assignments:  Students keep their teachers updated on their activities by sharing photos and videos.  Our Elementary classes have had fun doing their daily physical activity "Look Who's Been Caught Moving!!!"
Mr. Roper's Daily Challenge


































Crazy Hair/Hat Day






Grandparents Tea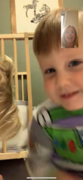 Serves Day














Look Who Got Caught Reading


















Elementary Gym: Look Who's Been Caught Moving