Back to all posts
Posted on
Remembrance Day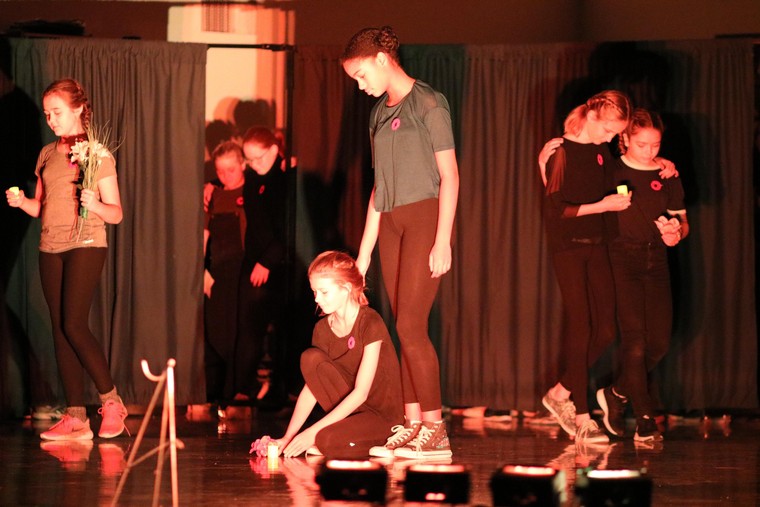 Today, we pause to teach, remember, thank, and honour our Armed Forces.  However, let us also join with them in celebrating many victories. Let us celebrate the many lives saved, the freedom we enjoy, and the country that we are blessed to live in.
In case you were not able to join us at our Remembrance Day Chapel, it was a very moving time including:
Mrs. Loeppky's drama class reenactment of a soldiers life
Grade 1's reciting Flanders Fields
Junior High students reflecting on Remembrance day through the word theme: teach, remember, thank, honour and celebrate.
Powerpoint slide show of some of the men and women who have or are currently serving our country
Please find below Mr. Ropers closing remarks:
The 11th Day of the Eleventh month - This is Remembrance day in Canada.  Its when we gather in more than 2000 cities and towns throughout Canada to remember the Canadian service personnel who have died in war and in other missions throughout the world.
Canadians remember those who paid the supreme sacrifice, but what should the Remembrance Day ceremony mean to you?
Perhaps the most important thing to remember is that many of those who did not come home from war were not much older than our grade 9s.  Some of these men and women left high school and university to fly planes and man warships. Many stormed beaches, and fought in bunkers, and many did not make it to the age of 21.  They had bright futures, but they left the excitement and promise graduation, of sharing good times at home to serve. They understood that this would likely put their lives at risk, but they went anyway.  They left family and friends, jobs and schools...and off they went. They enlisted for many reasons, but most of them did so because they were seekers of justice.
Canada has a history of being justice seekers.  We have filled an important role in many places around the world, providing security and helping with nation-building initiatives.  Remembrance Day is the time to honour those who have left homes and family and friends, and those who have paid the supreme sacrifice in the name of justice and peace.  It also gives us an opportunity to reflect on how we respond to those in need of justice.
Would we have the courage to stand up for what is right like other Canadians before us?  
A better country, and a better world starts with you.  
If you see something that is wrong, speak out.  
If you see someone who is lonely or struggling, help them.  
If you see someone who is being picked on, step in.
Remembrance day reminds us that there is injustice in the world, and we need justice seekers.
Micah 6:8
And what does the Lord require of you, but to seek Justice, to love mercy, and to walk humbly with your God.
That is why it is important to remind ourselves on remembrance day of all of those who went before us and sacrificed themselves to create the country we have today.  But it is also a reminder of the responsibility we have as Canadians to continue the legacy of the justice seeker.
When you put on your poppy, remember their legacy, and remember your responsibility.
Also included in the photos below are the cards our Grade 3B class and Grade 8C buddy class wrote to veterans this week.
Remembrance Day