Back to all posts
Posted on
Volleyball Season: JOY of the game!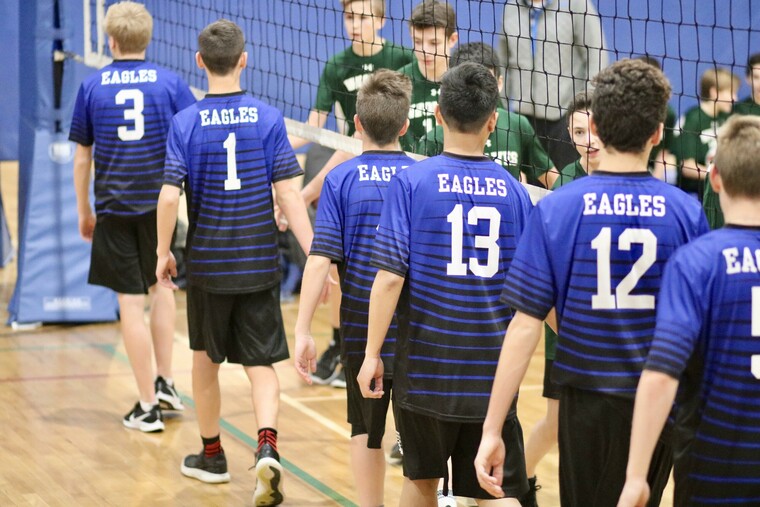 Author: Andrew Dykshoorn, Athletic Director 
Like every year, it is crazy to think that this year's volleyball season is already over. It goes by so fast, yet the growth that has taken place on each of our 6 volleyball teams has been astonishing. I want to give a big thank you to all of our coaches this year. We are blessed to have so many capable and passionate coaches lead our teams and push them to their fullest potential. Our coaching roster for this season consisted of teachers, parents, community members, and alumni (four to be exact)!

Coaches and players wasted no time to gain a deeper understanding of skills, teamwork, strategy, and hard work. All through the season I heard stories of parents, opponents, and other athletic directors complimenting and commenting on how well our teams played and how they presented themselves before, during, and after games. I had the unique chance to see our teams in action throughout the season from a variety of perspectives; the bleachers, the bench, and the referee stand. From all of these points of view I saw our teams play with 3 important "C's"; competence, confidence, and boldness in Christ. Without a doubt I am very proud of the level of excellence each of our volleyball athletes reached.

The hard work, determination, and strong leadership from our coaches did not just lead to students with stronger character and identity, but with great results in year end tournaments and playoffs as well. This year, 5 of our 6 teams medalled and ALL of our teams finished in the top 4 of the Tier 1 divisions! Each of our team's season finale accomplishments did not come easy and pushed our athletes to be their best. 

Despite having a season with large gaps between league games (due to snow cancellations), our grade 7 girls entered playoffs with confidence and finished with a silver medal.  

The gr. 7 boys faced great competition all season, often going back and forth against their opponents. Their year end tournament was no different and came out winning the gold medal! 

Our gr. 8 girls' team chemistry continued to grow and strengthen from last year. In playoffs, they played their best volleyball all year and forced their semi-final game to 3 close sets. Even though they lost that game they bounced back incredibly and took the bronze medal. 

Our gr. 8 boys had an arsenal of weapons on the team and spent the season molding and learning to work together. Their playoffs were highly competitive, where most games went to 3 sets. They ended up winning the championship, playing the same team they lost to in 3 close sets during round robin play.

The Sr. girls team have been playing together since gr. 6, so they had a strong bond all season long. They were even able to build community with many of the girls on other teams through club teams and fun volleyball get-togethers over the years. In playoffs, they played hard and beat a friendly rival team after losing to them the previous two years in playoffs. The final was very back and forth with our girls winning the silver medal.

Our Sr. boys came into the season extremely focussed and goal driven. They put high expectations on themselves and the coaches were able to ask a lot from them because of their determination. In playoffs, they met a team that was extremely close competition for them all season long. The boys poured everything (emotionally and physically) into their semi final match and the energy in that gym was incredible. Unfortunately, their season ended with a fourth place finish, but the passion and skill they played with was on a whole other level. 

For me, one of the biggest highlights in every volleyball season is our annual coach's breakfast. Here, coaches and parent managers have the opportunity to come together as a community and share a meal. Despite all the success we had in the rankings and podiums, medals and banners were rarely mentioned. Instead, stories, highlights, and memories were the topic of discussion. As coaches shared, there was one common factor on each of the coach's hearts; joy. There was a lot of smiling, laughter, and even some tears as coaches and parents shared the joy the athletes brought into their lives these past few months. I have a bulletin board just outside the gym with quotes from famous athletes and figures, in the hope that students and coaches can be encouraged and challenged by them as they enter the gym. After hearing the stories from our coaches, one of these quotes came to mind and it really summarizes our volleyball season this year. Mary Lou Retton (Olympic gold medal gymnast) said, "A trophy carries dust. Memories last forever."

Thank you to our amazing coaches, managers, parents/fans, staff members, and, of course, athletes for an awesome volleyball season! To God be the glory, great things he has done!

SchoolGuide Link to Photos for Year End
Click here for Photos of the Year End Wrap Up Volleyball Game: Staff vs Students
Volleyball Year End