Back to all posts
Posted on
Volleyball is More than Just a Game at TCS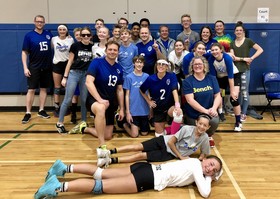 It was another great season for our Eagles volleyball teams. The amount of development that occurred across our entire volleyball program as astonishing. Athletes were excited to learn and our coaches did an excellent job of passing on their passion for the sport to our athletes. Last week, we were honoured to have our Coaches Breakfast, where we got the chance to hear stories, highlights, heart breakers, and moments of growth from our coaches. The stories that were shared were a true testament to our awesome student athletes, dedicated coaches, and our very supportive and loving parents and fans. This season gave our students a chance to succeed, fall short, grow, adapt, build/repair relationships; all while learning what it means to play for Christ and not for man or personal gain.
As far as success in the win column goes, Trinity was represented very well in the standings. This year we entered 6 teams into league play (3 boys teams, 3 girls teams). Out of those 6 teams, 4 teams medalled:
Gr. 7 Girls T1 - Gold

Gr. 7 Boys T2 - Silver

Gr. ⅞ Boys T1 - Silver

Gr. 8/9 Girls T1 - Silver
We have a tradition here at TCS where we close off the volleyball season with staff vs students game. This was a great community building event that could not have happened without the involvement of the entire school body. Our student team was made up of our gr. 8/9 Boys and Girls teams and our Staff team was made up of teachers, administrators, and support staff across all the grades (from K-9). A lot of our gr. 8 and 9 students acted as coaches for both sides, referees, linesman, scorekeepers, and mascots. We had every student from K-9 come out and watch the game, as students got a chance to cheer on their teacher, sibling, or buddy from their buddy classes. It was such an awesome atmosphere! We also had a couple gr. 8 students emcee the event where they interacted with the fans and players, entertained and engaged the crowd, and explained some of the rules so that our younger fans could understand the game better. This event demonstrated that we are all Eagles and we all have a part to play as a part of the body of Christ.
Thanks to all of our athletes this season who demonstrated excellent character and put in hardwork. Thank you to our knowledgeable and passionate coaches, who poured life and passion into our student athletes. These coaches include, Ms. Holly Procita, Mrs. Kendra Lake, Mrs. Jenn Munton, Mr. Randy Jamieson, Mr. Corey Janssen, Mrs. Joyce Verhoeff, Mr. Yarek Bartosz, Ms. Maria Collins, Mr. Michael Oostenbrink, Mr. Richard Merritt, Mrs. Jamie Bartos, Mr. Kelly Jarrett, Mrs. Edith Boldt, and Mr. Jay Lake. Thanks to our parent managers; Mrs. Jody Vriend, Mrs. Angela Hargreaves, Mrs. Shauna Martin, Mrs. Linda Thomas, and Mrs. Lisa McIntosh. Also, a big thank you to all our parents who drove, cheered, comforted, and supported our athletes and teams. WE ARE ALL EAGLES!!
Check out photos from the season!
Volleyball: Staff vs Students